The wiki could use some editors! Any help would be appreciated as our shortage of editors makes it take longer to update the wiki. If you want to help out with editing, feel free to do so, it would be much appreciated! You can also check out the to-do list for a list of things needing done.
Skullbone Fragment
Skullbone Fragment
Statistics
Renewable
No
Stackable
Yes (64)
Version added
1.0
ID
aoa3:skullbone_fragment
Skullbone Fragments are fossils found in Precasia.
Skullbone Fragments can be obtained by mining Skullbone Fragments Ore.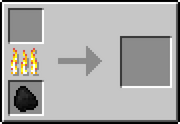 Name
Ingredients
Recipe
Bone Blaster
1 Skeletal Ingot +
2

Skullbone Fragment

+
2 Jungle Thorns +
1 Bone +
1 Blaster Frame

Plateosaur Slab
1

Skullbone Fragment

+
1 Rammerhead Hide +
1 Blank Slab

Skeletal Helmet
3 Skeletal Ingots +
1 Skullbone Fragment +
1

Apple

+
1 Padded Cloth +
1 Helmet Frame