Hive Nest
Hive Nest
Statistics
Biome
Barathos
Consists of
Hive Wall
Hive Light
Hive Spawner
Version added
1.1
ID
HiveNest

The Hive Nest[1] is a structure that generates in the Barathos dimension where the Hive King boss can be battled.
Hive Nests have a 1 in 650 chance to generate per chunk by default. Only one hive nest can generate in a chunk.
Hive Nests will only generate if the block they will generate on is the biome's top block (Baron Ground).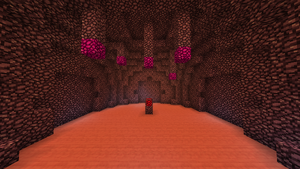 Hive Nests are small semi-spherical structures that are hollow on the inside. The inside of the structure is mostly empty, save for some hive lights hanging off the ceiling and a hive spawner in the center.
The player is able to configure the generation rate of Guardian Tower in the mod's config file. By default the gen rate is set to 650.
Structures

The Abyss
Ancient Cavern
Barathos
Candyland
Celeve
Creeponia
Crystevia
Deeplands
Dustopia
Gardencia
Greckon
The Haven
Immortallis
Iromine
L'Borean
Lelyetia
Lunalus
Mysterium
The Nether
Overworld
Precasia
Runandor
Shyrelands
Vox Ponds